Control Panel - Monitoring
Here you can create actionable monitoring policies that enable you to fire an alert, auto-scale a VPSie or take a power action (power off for example) based on customizable policy rules as follows:
Create Policy: Perform the following action to create a rule:
In the "Name" field enter a name for the policy, then from the drop-down menu "Metric" choose the metric you want to use in this rule.
From the drop-down menu "condition" select your greater than or less than condition.
Enter threshold you want in the "Threshold" field.
Select from the "Period" drop-down menu the desired periodicity.
Select the "Frequency" of monitoring.
You need select the VPSie you want to start monitoring from the drop-down menu.
Select the "Action Type" you want and you will be required to configure the action each according to its type.
Enter the email addresses to receive alerts.
Finally, press the blue "+" icon to save the rule,
Repeat the previous steps to create a new rule, &
Press the "Create Policy" (a minimum of 2 rules has to be created for this button to be enabled) to save your policy.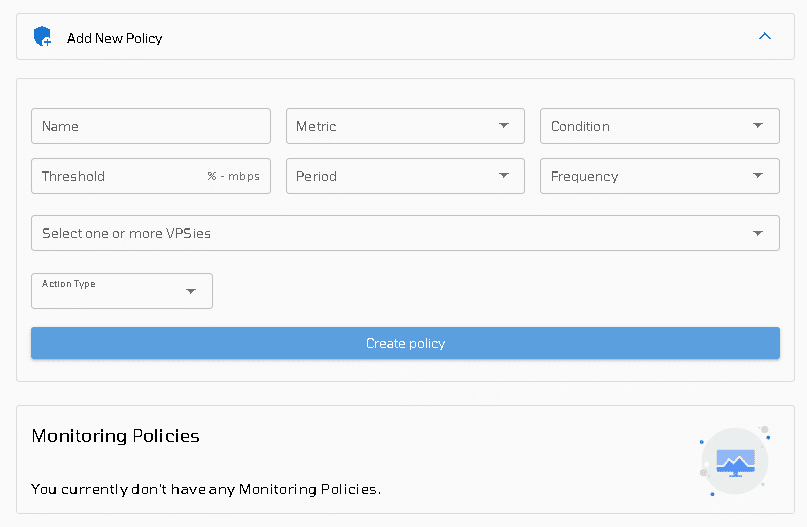 Here,
1. By Clicking on the red trash bin icon under the "Action" column in monitoring raw under the policies list to Delete the policies.
2. The Toggle bar will automatically change to the right when the service is enabled and Changing the toggle bar to the left will disable the policy.
3. Click on the policies name to enter in to the manage section.