How to Install Spring tool suite (STS 4) in Ubuntu
The Spring Tool Suite is an JAVA integrated development environment specifically designed to develop Spring-based enterprise applications. The tool suite is more convenient, easier, and faster to use. Furthermore, it is based on Eclipse's integrated development environment. The software is open-source and powered by VMware. Additionally, it integrates with Pivotal Cloud Foundry, Git, Maven, and AspectJ. STS is built as an addition on top of the latest Eclipse releases. With the Spring IDE project, you can use the Eclipse IDE with a set of plugins, and the Spring Tool Suite comes pre-installed with the Spring IDE components for the latest Eclipse releases. Let's go ahead and begin the installation process.

For Ubuntu systems to be registered with VPSie, you need to create a VPSie account if you don't have one already.

Our example is based on an Ubuntu instance with GUI installed. Here is a link that will guide you to installing Ubuntu's GUI if you do not already have it installed.

Now open your terminal and run the following commands to update your system.
# apt-get update && apt-get upgrade -y
Step 1: Download STS4 Package

Visit the official website for the latest Package. 

Step 2: Copy the file to "/opt" folder and Unzip it.
Now run the following command to move the STS package to OPT folder:
sudo mv source destination

 
# sudo mv spring-tool-suite-4-4.14.0.RELEASE-e4.23.0-linux.gtk.x86_64.tar.gz /opt/
Let's verify the copy action was succesful by running the following commands:
# cd /opt/
# ls  

- It will list the available files and folders under OPT folder.
Now run the following command to unzip the copied file:
# sudo tar -xvf spring-tool-suite-4-4.14.0.RELEASE-e4.23.0-linux.gtk.x86_64.tar.gz
Now navigate to the folder created during the extraction find the file SpringToolSuite4 for Desktop entry:
# cd sts-4.14.0.RELEASE
Run the ls command to find the corresponding file.
# ls

Now run following command to open the file for making an entry for STS:
# sudo nano /usr/share/applications/STS.desktop
Then add the following lines on this folder, verify it and save.
Note : You should change the version name with your downloaded package version.
[Desktop Entry]
Name=SpringSource Tool Suite
Comment=Spring Tool Suite
Exec=/opt/sts-4.14.0.RELEASE/SpringToolSuite4
Icon=/opt/sts-4.14.0.RELEASE/icon.xpm
StartupNotify=true
Terminal=false
Type=Application
Categories=Development;IDE;Java;
Now you can launch the STS from the application menu.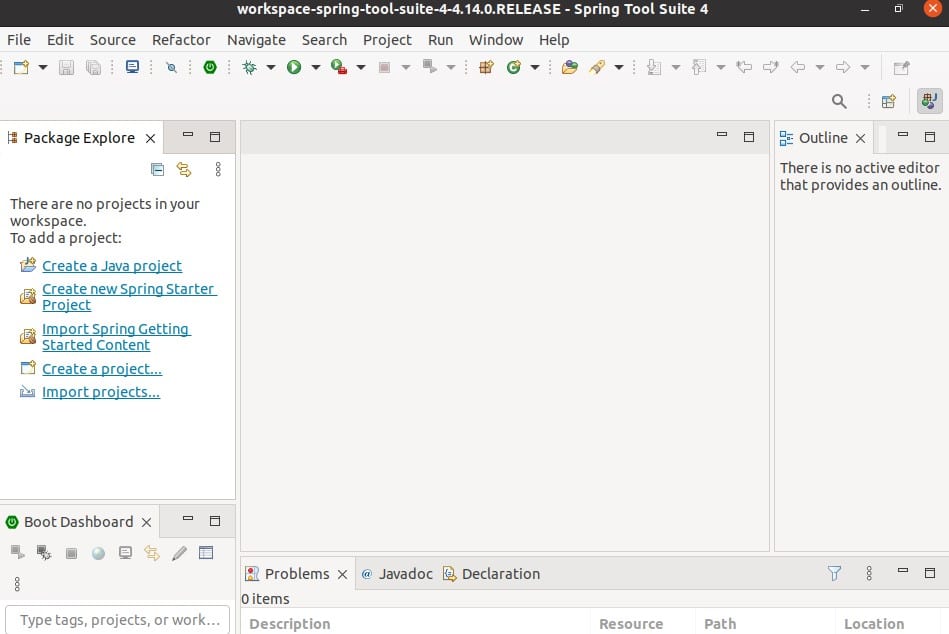 Your Ubuntu instance now contains the Spring Tool Suite, which has been successfully installed. It is our hope that you have enjoyed this article.