We are proud to introduce adding multiple IPs to your VPSie server (Linux , Windows , Custom), We have got multiple requests from our clients requesting adding IP feature.
Now you can simply add private and public IPv4 addresses to your VPSie server in one click by following these steps:
While logged in to your account – On left side menu click add IP to VPSie:
1- Select Private IP or Public IP as needed.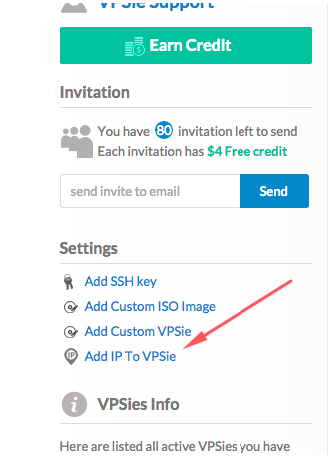 2- Select the VPSie you would like to assing the new IP to.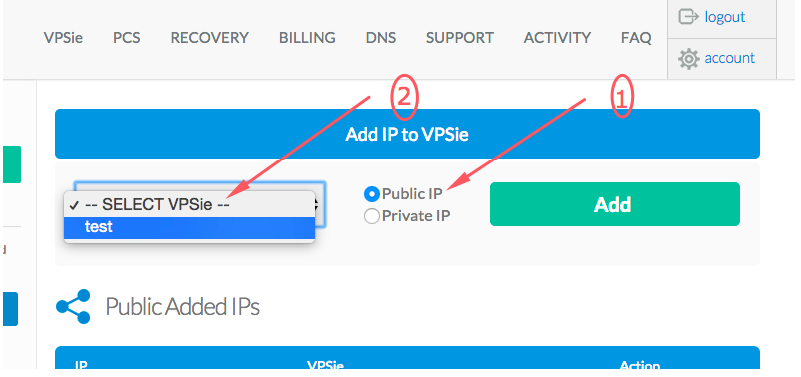 Once you click Add – You can immediately use the newly added IP.
You will find all network related specifications (Gateway, Netmask, IP range, Broadcast address and network address) under VPSie –> Actions tab –> Networking.
Note : PCS (Private Cloud Solutions) users can also add IPs within PCS to the dedicated firewall within the PCS menu —> Add IP to PCS.
Many of our users who would see this post might ask why additional IPs might be needed on a server, Here are some of the reasons:
1- Host multiple sites that might require unique SSL certificates.
2- To test or trial a failover / High availability setup.
3- Receive requests/traffic on a specific Ip for specific service that conflict with the main server IP.
4- If you have a failed server on an IP and you want to keep services up on that IP.
5- To be able to support different hostname in rDNS (Reverse DNS).
6- In order to run the same exact service multiple times on multiple IPs.
7- Use different public IP addresses to avoid firewalls conflicts or to avoid being blacklisted in SPAM filters.
8- To dedicate an IP for outbound mailing purposes (ex: marketing emails vs transactional emails).
9- In order to setup a device that has a default IP address and thus you need to add an address on the same network.
10- If you have multiple IP networks on the same physical/virtual/logical VLAN or network segment it will prevent traffic from being exchanged via the same gateway.
11- Reducing the load on one network adapter (interface) or load balance different request types.
12- In order to use an new IP address that you plan on transferring to another server later.
13- Helpful if you want to do NAT (Network Address Translation) on specific port to different services.
14- Helpful for 1:1 NAT scenarios on firewall/routers or Router-on-stick scenario.
15- Using active/passive load balancers, or Firewall high availability.
There are many other usage scenarios however this is what is most common usage.
If you don't already have an account, Try us free for a month using this