In this tutorial we will configure webuzo and install all the softwares using the webuzo panel and then deploy an application on it. We do assume that you have a
fully working and configured webuzo
with or without a license. The webuzo will have to be configured with the use of a fully qualified domain name (FQDN) if not then you will have to add one during the setup of the webuzo. We will be using for this tutorial vpsie.tk which was setup during the initial setup and created a DNS entry for it. Once you have a fully installed Webuzo and you logged in into the admin panel you might want to generate a free license for it if you did not purchased one already (free license will limit you from deploying applications since most of them will require a valid paid license). To do so head over to 
http://www.webuzo.com/free
 and fill the capcha the click on Issue License button. Copy your license key and then on your intalled Webuzo head over to Settings -> Manage License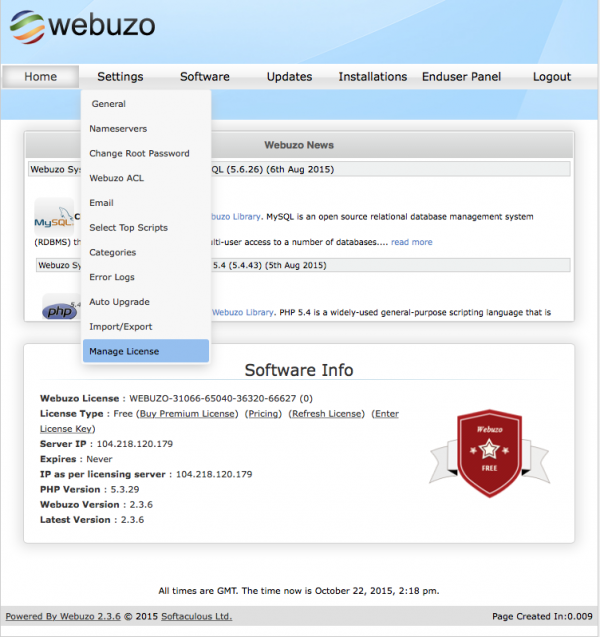 Fill the license key and add the add your e-mail address and press the Submit button.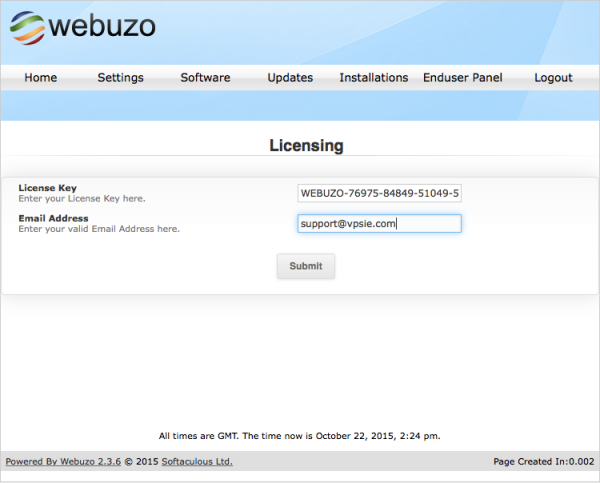 In this post we will not create a separate user therefore we will click on the Enduser Panel tab to go to the User account and start installing the required software. In the user panel you click on the Apps tab to have the server side installation available and since we want to install a PHP based application with a mysql database we will deploy apache2 as webserver, mariadb as a database server and php 5.6. To do so first let's click on the Web Servers in the left menu and expand then select apache2 from it. Click on Set as default checkbox and click Install.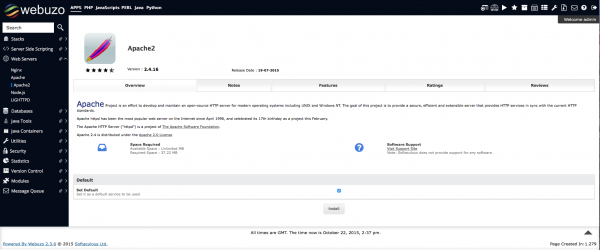 After a few minutes the Apache will be installed. Now click on the Database menu icon to expand it and select MariaDB. Just as in case of Apache2 check the Set Default checkbox and click Install.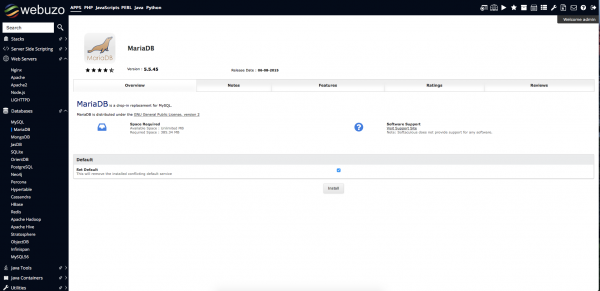 Now it's time to install the PHP. For that click on the Server Side Scripting and select php5.6 from the list. Same as before check the Set Default checkbox and click Install .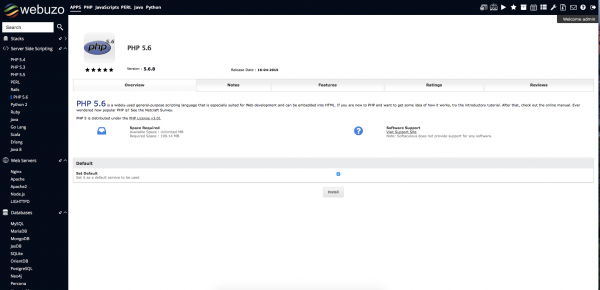 Once that's done head over to your client area and click on PHP in the top. Now we choose the application we want to deploy. For this tutorial we choose prestashop. As mentioned above not all applications are available with a free license. To do so in the left menu click on the E-Commerce menu item to expand it and click on Prestashop from the menu.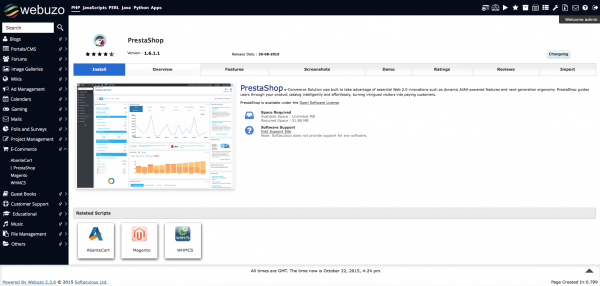 Then click on the Install tab fill the form as required. Select the protocol you need http/https the domain for which you want to install the application set the username password database related information. Once done click Install in the bottom of the page.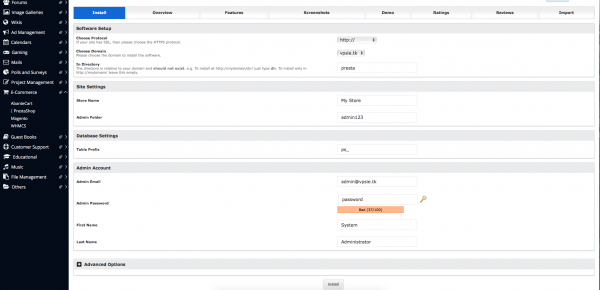 Note: While you installing any application do not click on any other menu item cause that will cause an installation failure and you will have to do it from start. After several minutes the applications will be installed and you will get presented the access links to it. You click on the links and you can start using your newly installed applications.